I met some friends for dinner and took advantage of dineLA week! If you're in the area and you're a foodie, then you know what i mean;) Fine dining for a fraction of the price! I wasn't quite sure about the dress code at this particular restaurant within a fancy hotel. My friend told me to just go dressy casual so I did a bit of rummaging in my closet and here's what I came up with...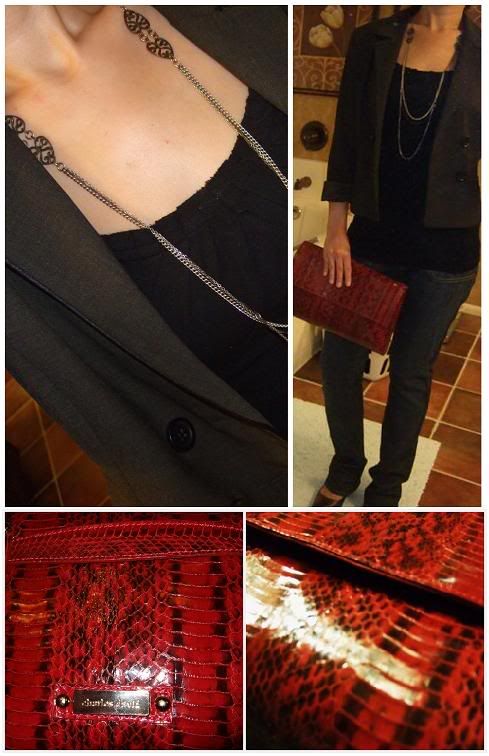 (L to R) (1) Jacket Express, had this for awhile (can't remember the price); (2) Necklace Urban Outfitters, Sale $9.99; (3) Tank Top Barneys Co-Op, Sale $12.99, Barneys Outlet; (4) Jeans Rock & Republic Sale $99, Off Saks 5th Ave; (5) Clutch Charles David Sale $44, Macy*s
As you can see, I love outlets and sales!:) The clutch above was on loan from my sister. I love the gorgeous red color (sorry about the poor picture quality)! I know it doesn't translate well in these pics, but it's quite beautiful in person. I was a bit safe with my outfit so I wanted to add a splash of color with this clutch. The blazer has been around for quite sometime, so I just rolled up the sleeves to update it a bit. This outfit was quite comfy, despite the heels:P I had a great evening with good friends, great food, and lots of laughs.
Does anyone else love outlets as much as I do??