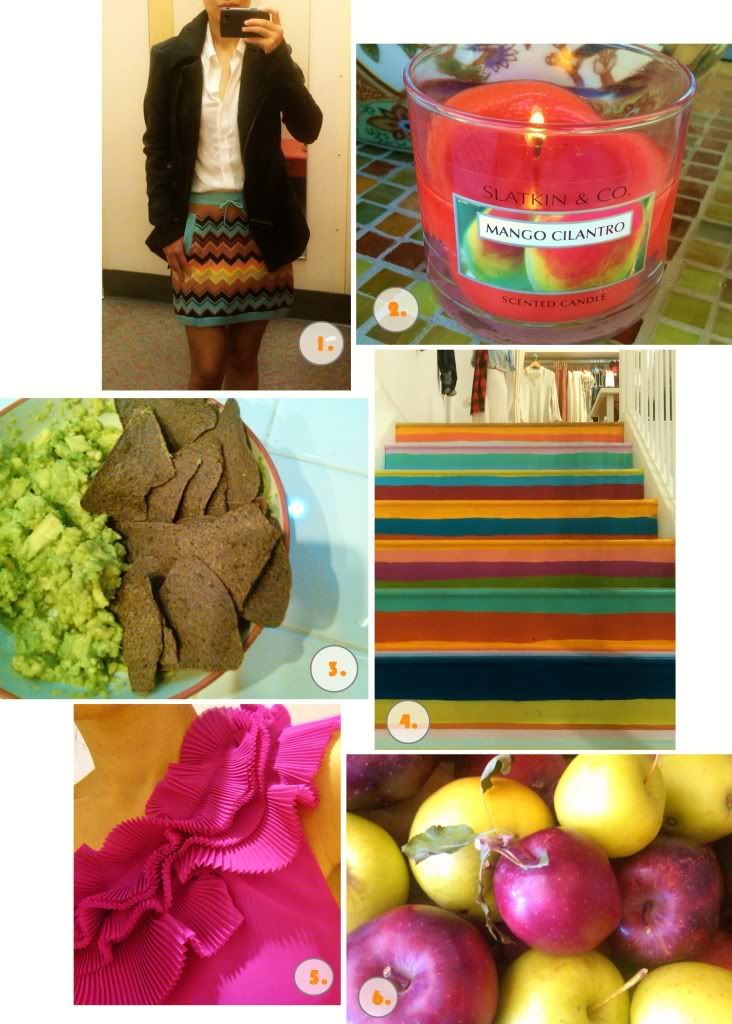 Hello! Sorry for yet another disappearing act! Lately, I've been a bit swamped hence the sporadic posts. I'm hoping to be a better blogger this week;) How were your weekends? I had quite the frantic start to the week today. I suppose it's just one of those Mondays:) I'm relieved that the day is over and I'm now relaxing and blogging from the patio. I'm attempting to soak in as much of the beautiful weather as I can before actual Fall weather arrives in So Cal.
To keep my mind off the day's events, above are a few fun snapshots with my phone from the past week...

1.) I missed out on the Missoni for Target madness (my local store was nearly cleaned out!) and only managed to snag some platters. On a recent visit to see friends, I was quite excited to find this sweater skirt at their local store! OK, confession...it's from the kid's department, but the XL fits just like a woman's XS (and cheaper *wink*)! Plus, no indecency to be weary of since the skirt is as long as the adult version;)
2). A refreshing scent for an instant pick-me-up.
3.) Guacamole=Refreshing comfort food on a warm day.
4.) Loved the new painted staircase at one of my favorite shopping haunts,
Madewell
.
5.) Seriously too many temptations at the H&M sale. Love the color & ruffles of this top! Just $7!!
6) Today, I received a box of apples from a friend with an orchard. Made my Monday a little brighter! What a sweetie pie!
How do you cope with a manic Monday?